Mosquito (Diptera: Culicidae) fauna in parks in greater São Paulo, Brazil
Keywords:
Diversity, culicids, mosquitoes, municipal parks
Abstract
Municipal parks in the city of São Paulo, which are used for leisure purposes, contain remnants of the flora of the Atlantic Forest, as well as lakes and springs, and are home to mammals, birds and arthropods, some of which can be vectors of disease. The eastern side of the city has the largest population in São Paulo and twenty-four municipal parks. The aim of this study was to investigate Culicidae fauna in two parks on this side of the city and to determine which of the Culicidae species identified have the potential to act as bioindicators and vectors of human pathogens. Culicidae were collected monthly between March 2011 and February 2012 in Carmo Park and Chico Mendes Park with battery-powered aspirators, Shannon traps and CDC traps for adult mosquitoes, and larval dippers and suction samplers for immature mosquitoes. To confirm sample sufficiency, the EstimateS program was used to plot sample-based species accumulation curves and estimate total richness by the Jackknife 1 method. In all, 1,092 culicids from nine genera (Aedes, Anopheles, Coquillettidia, Culex, Limatus, Mansonia, Trichoprosopon, Toxorhynchites and Uranotaenia) and nineteen taxonomic units were collected in Carmo Park. Coquillettidia venezuelensis (Theobald 1912), Aedes scapularis (Rondani 1848) and Culex (Culex) spp. Linnaeus 1758 were the most abundant adults, and Culex (Melanoconion) spp. Theobald 1903 and Anopheles strodei Root 1926 the most abundant immature mosquitoes. In Chico Mendes Park 4,487 mosquitoes in six genera and eighteen taxonomic units were collected. Culex (Cux.) spp. and Ae. scapularis were the most abundant adults, and Ae. albopictus (Skuse 1984) the most abundant immature mosquitoes. The species accumulation curves in both parks were close to the asymptote, and the total richness estimate was close to the observed richness. Some culicid taxons are bioindicators of environmental conditions in the areas they inhabit. It is important to monitor native fauna in municipal parks in São Paulo as various species in this study were found to have vector competence and capacity to transmit pathogens, such as arboviruses.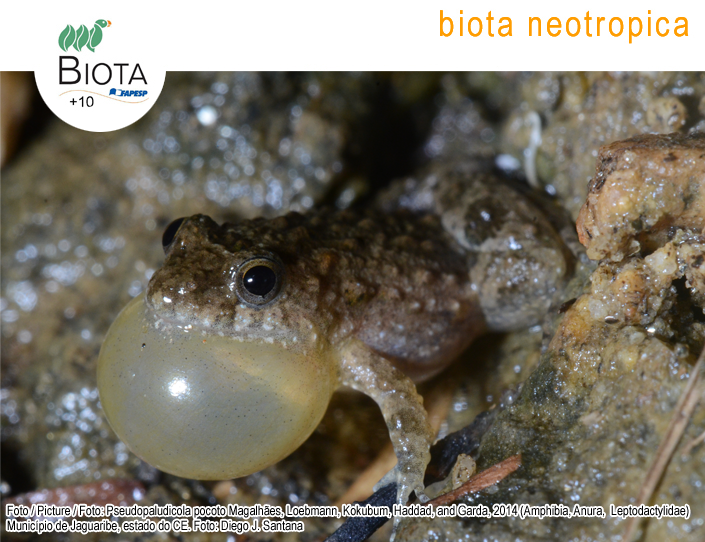 How to Cite
Paula, M. B. de, Fernandes, A., Medeiros-Sousa, A. R., Ceretti-Júnior, W., Christe, R., Stroebel, R. C., Pedrosa, L., Almeida, R. M. M. de S., Carvalho, G. C. de, Pereira, U. D., Jacintho, M. C. de O., Natal, D., & Marrelli, M. T. (2015). Mosquito (Diptera: Culicidae) fauna in parks in greater São Paulo, Brazil. Biota Neotropica, 15(3). Retrieved from //www.biotaneotropica.org.br/BN/article/view/1162