Gastropoda (Mollusca) associated to Sargassum sp. beds in São Sebastião Channel - São Paulo, Brazil
Keywords:
Biodiversity, marine gastropods, phytal
Abstract
The phytal is characterized by the formation of seaweed beds and a great diversity of associated species, the malacofauna being one of its main components. Aiming to record the species of Gastropoda associated to the brown algae Sargassum sp. C. Agardh, 1820, this study was carried out in São Sebastião Channel, northern coast of São Paulo, and nearby areas. A total of 13945 individuals were identified, belonging to 35 families and 62 species. Cerithiidae, Phasianellidae and Columbellidae were the most abundant families, represented by 34, 33 and 17% of the total collected individuals, respectively. Bittiolum varium (Pfeiffer, 1840) (Cerithiidae) and Eulithidium affine (C. B. Adams, 1850) (Phasianellidae) are the dominant species, followed by the columbelids Mitrella dichroa (G. B. Sowerby I, 1844), Anachis fenneli Radwin, 1968 and Costoanachis sertulariarium (d'Orbigny, 1839). Among the least abundant species, some of them may be considered as of fortuitous occurrences, while others seem to be typical in those habitats, although rare. The presence of juvenile specimens was recurrent, this indicating that the algae can function as a nursery for most of these species. The expressive values found, for both abundance and number of species, illustrate the great ecological importance of the phytal habitats for the gastropod species.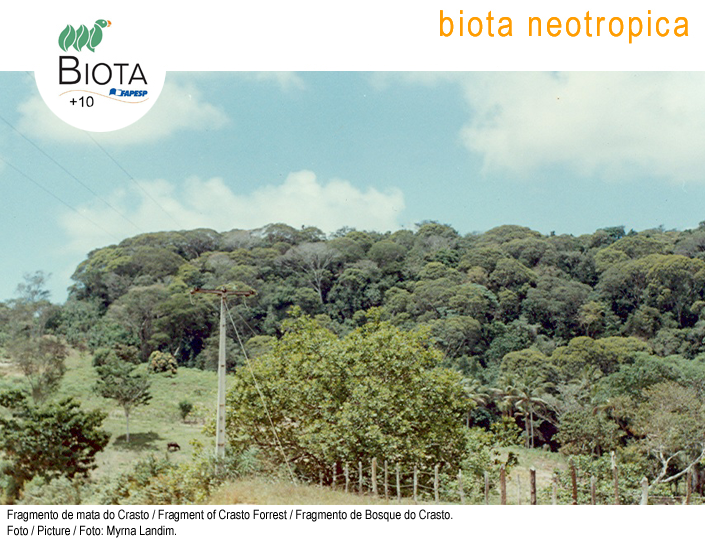 How to Cite
Longo, P. A. dos S., Fernandes, M. C., Leite, F. P. P., & Passos, F. D. (2014). Gastropoda (Mollusca) associated to Sargassum sp. beds in São Sebastião Channel - São Paulo, Brazil. Biota Neotropica, 14(4). Retrieved from //www.biotaneotropica.org.br/BN/article/view/1148