Olpidium gregarium, a chytrid fungus affecting rotifers populations in Rio Grande Reservoir, São Paulo State, Brazil
Keywords:
parasite, Chytridiomycota, Rotifera, zones
Abstract
A chytrid fungus Olpidium gregarium was found in Rio Grande Reservoir as rotifers populations' parasite. Along the reservoir central axis, the rotifers density decreased in the dam direction, while the density of affected rotifers by the chytrid fungus increased in the same direction. Moreover, some rotifers species were more affected than others, thus showing certain preference for some rotifers species. Thereby, this parasite may be interfering in the distribution of rotifers population in Rio Grande Reservoir. This is the first report of this species for Brazil.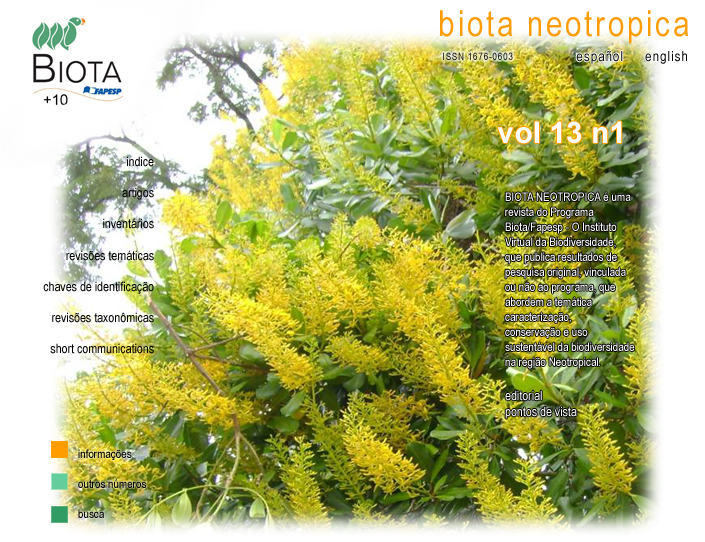 How to Cite
Meirinho, P. do A., Nishimura, P. Y., Pires-Zottarelli, C. L. A., Mochini-Carlos, V., & Pompêo, M. L. M. (2013). Olpidium gregarium, a chytrid fungus affecting rotifers populations in Rio Grande Reservoir, São Paulo State, Brazil. Biota Neotropica, 13(1). Retrieved from //www.biotaneotropica.org.br/BN/article/view/1083
Section
Short Communications