The ichthyofauna of the Bertioga Channel, São Paulo, Brazil
Keywords:
Estuary, biodiversity, conservation, identification key, Santos-São Vicente estuarine complex
Abstract
The Bertioga Channel, on the coast of the São Paulo state, is delimited by the continental shore and the island of Santo Amaro, and represents a secondary connection of the Santos-São Vicente estuarine complex to the ocean and adjoins the municipalities of Santos, Guarujá and Bertioga. In the present study collections were made between December 2009 and November 2010 in the northern stretch of the Bertioga Channel (23° 51' 23,83" S, 46° 07' 58, 87" W to 23° 53' 31,72" S, 46° 11' 17,74" W) in order to provide an inventory of the ichthyofauna of the region. A total of 1,429 specimens were collected, belonging to 78 species, 67 genera, 39 families and 14 orders. The most species rich families were Sciaenidae (nine spp.), Carangidae (nine spp.), Haemulidae (seven spp.), and Ariidae (five spp.). The most abundant species were Stellifer rastrifer (n = 243), Harengula clupeola (n = 182), Cathorops spixii (n = 144), Oligoplites palometa (n = 109) and Mugil curema (n=102). The species Achirus lineatus, Atherinella brasiliensis, Cathorops spixii, Chaetodipterus faber, Citharichthys spilopterus, Genidens genidens, Micropogonias furnieri and Stellifer rastrifer, were collected in all seasons of the year. Of the species encountered, six were considered constant, 19 accessorial and 53 occasional. In relation to habitat association, 40 species are marine-estuarine, 26 species marine, 11 species estuarine and one species freshwater, being 52 demersal species and 26 pelagic species. Eleven species are included in red lists. Additionally, an identification key to the species of the northern stretch of the Bertioga Channel is presented.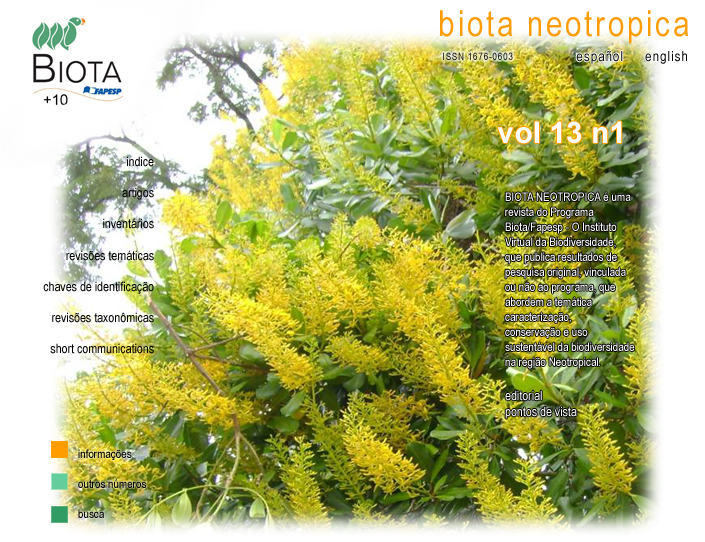 How to Cite
Barbanti, B., Caires, R., & Marceniuk, A. P. (2013). The ichthyofauna of the Bertioga Channel, São Paulo, Brazil. Biota Neotropica, 13(1). Retrieved from //www.biotaneotropica.org.br/BN/article/view/1074